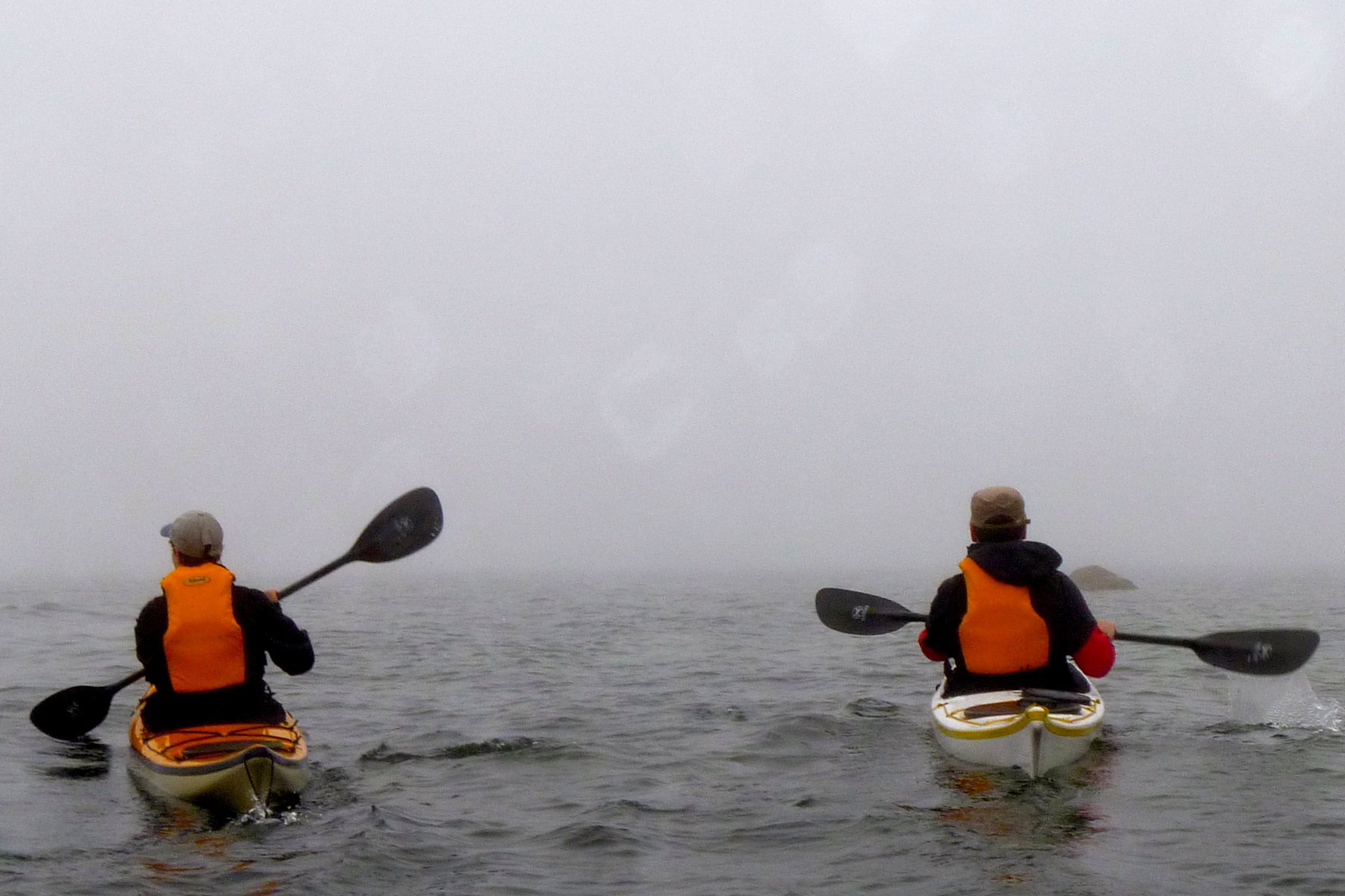 I'd like to describe one of the most special trips of 2014 which took place in early August. For most of our trips we have fine sunny weather but this trip was on a day when the fog was so thick we couldn't even see Harbor island from the put-in at Brooklin, which was just a couple of hundred yards from shore. We were a party of three and Michael and Marina had just flown in from Germany. We each had a compass and had reviewed the marine chart and knew exactly where we were going.
After our orientation we set off into the mist keeping a close eye on our compasses and our charts. The rocks of Harbor Island suddenly rose up out of nowhere and soon pine trees at the waters edge were looking down at us. A bald eagle appeared in a clearing in the mist and circled as we followed our plan to paddle to the opposite side of the island. The water was calm and I felt at times we were floating half in the water, half in the air. The trees melted away from us towards the middle of the island - it looked like the lichen on the rocks and the trees was suspended in mid air and we were reminded of scenes from the 'Lord of The Rings'. Suddenly the mist lifted a little and ahead we could just see a perfect postage-stamp sized island, Sellars Island, where we could stop for a break.
Afterwards we readjusted the kayaks and some time later headed to a third island and to one of my favorite places where there is a magical lagoon and a sandy beach which at high tide looks to me like a beach that a castaway would find in the South Seas. The sun had come out and suddenly now it was a brilliant afternoon with the blue skies of August overhead. Could this be the same day as it was when we paddled into the mist this morning? We hung out on the beach enjoying a well earned rest then decided to traverse the short distance to a fourth island where we could stop for lunch. We were tempted to make it a long lunch break but we also wanted to see what was around the far side of the island.
Soon after we set off, clouds started to gather and suddenly the wind had whipped up, it grew dark, then it began to rain. Torrentially! Fortunately it was a warm rain, we were all well dressed and we paddled on regardless not knowing that soon the rain would end and the sun would break through once more. When we arrived back at the put-in later that afternoon we were dry from the summer heat, exhilarated and we all agreed it had simply been about the best kayaking we had done! We had seen fog, rain, wind and sunshine, we had enjoyed our food outdoors in each others company, we had seen some fine scenery which is so special to this part of Maine. Best of all we had the memory of a perfect day.