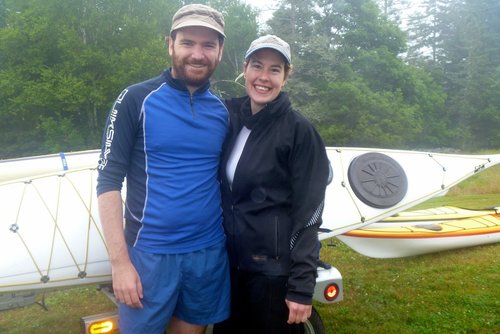 Discover one of the most treasured marine environments on the East Coast. Be rewarded with the satisfaction you'll gain from doing something in the outdoors that most people will never have the opportunity to do. Be prepared for the unexpected - in a good way. >>Read More about the Ecosystem
THE FOOD
If you're joining us for an multi-day trip, get ready for some mouth-watering meals made with locally sourced ingredients. >>See A Sample Menu
The Gear:
Paddling is our passion and we want only the best equipment and have some of the best kayaks and paddling gear on the market. We paddle fiberglass or combination carbon / fiberglass kayaks, carbon fiber paddles and top-of-the-line life vests and dry bags. Our tents and camp equipment are state-of-the-art and new in 2015 which makes the camping experience more enjoyable for you. >>Read More
Resources:
We've recently written some book reviews on sea kayaking you might find useful, check them out on the Island Notebook page.
Safety:
We're committed to trip safety - it's our number one priority. It's our job to make sure you're dressed correctly and feel safe and at all times. We'll provide you with a detailed list of suggested clothing in your Pre-Trip Information Package. and we'll provide training, if needed so that you're safe on the water. We recommend wearing a wetsuit (you can rent from us at a nominal cost).
Weather:
Waters around Deer Isle and Stonington can be hazardous and the weather, even in summer, can change rapidly. We'll provide you with a detailed NOAA weather forecast and information about currents and tides We'll text you with a weather snapshot 24 hours before a trip. We'll also get frequent weather updates from NOAA on multi-day trips.
Physical Requirements:
Trips are suitable for active singles, couples and families with teenage children (age 14 and up) with a maximum of four paddlers in the group. You should be in good physical condition since we'll be paddling between four and six hours a day. However, the trip will be designed to be less challenging if the group is made up of novice paddlers. If you're a beginner, we'll start slow with some flat water practice and you'll find that your paddling technique and confidence will steadily improve throughout the day.
OUR COMMITMENT:
It's really important to us that we provide a quality experience with solid value. We're committed to making sure that the trip is right for you, the customer. It's important to us that we provide you with a quality experience, a trip that you'll remember as being "something special I did that summer" and we'll do our very best to make this happen.